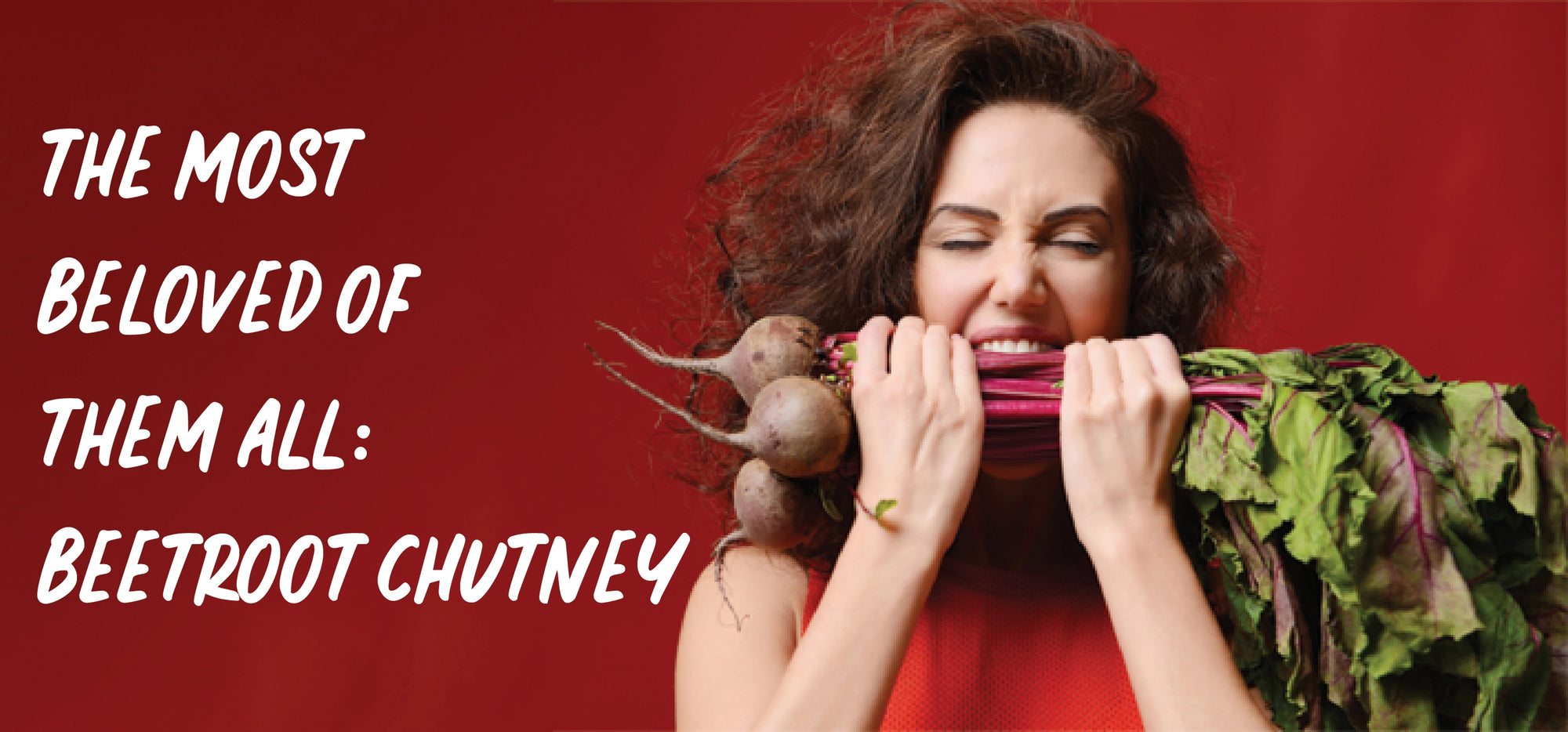 The Most Beloved Of Them All: Beetroot Chutney
Whether it's the vibrant pop of colour, or its earthy, sweet notes, there's something about beetroot chutney that makes you feel at home. It's probably because Udupi beetroot chutney is a staple that's almost always enjoyed at home, often for lunch with the family gathered around the table and constant chatter in the air. There's a warmth to it that just can't be described. You just feel it with every mouthful, even if you are tasting it for the very first time.
This is a guide for the uninitiated. Don't let the word chutney mislead you, this Udupi staple can be enjoyed in a variety of ways. It's a great way to eat healthy, as beetroot provides essential nutrients and multiple health benefits. Its sweet, tangy and spicy flavours lend themselves to multiple combinations, that you can savour at any time of the day.
This list is by no means exhaustive, we're sure there are more novel ways to enjoy this delectable dish. All it takes is some creative experimentation and you'll be rewarded. We could go on about all the ways to love beetroot chutney, but you'll just have to try them all yourself. So let's get started.
MIX IT: South Indian beetroot chutney is popularly enjoyed with steamed white rice served with a dollop of ghee and happala (papad). Simple, satisfying and absolutely sublime. It's a nostalgic trip for sure.
DUNK IT: Like most other chutneys, beetroot chutney pairs wonderfully with South Indian staples like dosas, vadas, idlis, pesarattus and more!
DIP IT: If you want to elevate your snacking experience, dip your samosas, chips or pita sticks into beetroot chutney for a flavour-filled mouthful.
SPREAD IT: Beetroot chutney makes for a smooth, creamy and spicy sandwich spread. It's also great with akki rotis and parathas - slather on a spoonful of chutney, add some veggie or meaty fillings and roll it up for a meal on-the-go.
MARINATE IT: Experiments with beetroot chutney almost always pay off. Its earthy flavour goes very well with grilled food, so the next time you plan a barbeque party, just marinate your veggies and meats in beetroot chutney and yogurt and surprise your guests.
RAITA IT: A dollop of beetroot chutney in a bowlful of curd can breathe new life into your meals. Chilled beetroot raita goes well with just about every dish you can imagine.
CHAAT IT: Just when you thought chaat couldn't get any better! The tangy and sweet flavours of the chutney perfectly balance the spicy and savory flavours of the chaat, adding more depth and making it even more irresistible!
SCOOP IT: Sometimes, all you need is a spoonful of plain beetroot chutney, for a burst of flavour in your mouth and to add a spring in your step. We're all for it.
There's nothing quite like the taste of Udupi beetroot chutney. For most of us, it is not just a condiment, it's a taste of nostalgia that brings back memories of childhood and home. The best part is, you don't even need to know how to cook or find someone to make it for you. Chutnefy makes authentic Udupi style beetroot chutney that you can prepare in just 5 seconds. Just peel the pack, pour water and give it a stir. Simply place an order on our website and embrace the wonder that is Beetroot Chutney!