Do you chutney or Chutnefy?

Ever made chutney before? If you have, you'd probably agree that it's quite a pain! It takes time, leaves behind a mess, and what you get at the end of it all rarely tastes just right.
And so you turn to other options - Podies, bottled sauces, pickles or anything else you can find in the fridge. But let's admit it, they never quite hit the spot.
Which is why Chutnefy came to be. Because there's only so many times you can eat your hot crispy dosa with a leftover gravy from 2 nights ago.
"This is an innovative product, Taste was top-notch, packaging was compact and tidy. Must try - peanut & beetroot chutney. 👍"

"The chutneys are incredibly tasty and delicious. When my wife served my breakfast with tomato chutney I couldn't believe it was not home made."

"We are travelling and I'm a vegetarian. I'm very particular about eating anywhere outside other than vegetarian restaurants. I almost got 40 packs of all chutneys of chutnefy with me and they are saviours for me. All of them taste really good.Thank you for saving my life in the travel."

"Awesome range of products. Last week I took peanut and mint chutneys on a safari trip and everyone loved them!! Packing is also very good and easy to reconstitute with water at room temperature."

"I just I got my hands on chutnefy, you guys it's sooo delicious as it's like homemade I literally love it you're making everyone's job easier, doing great and all the best"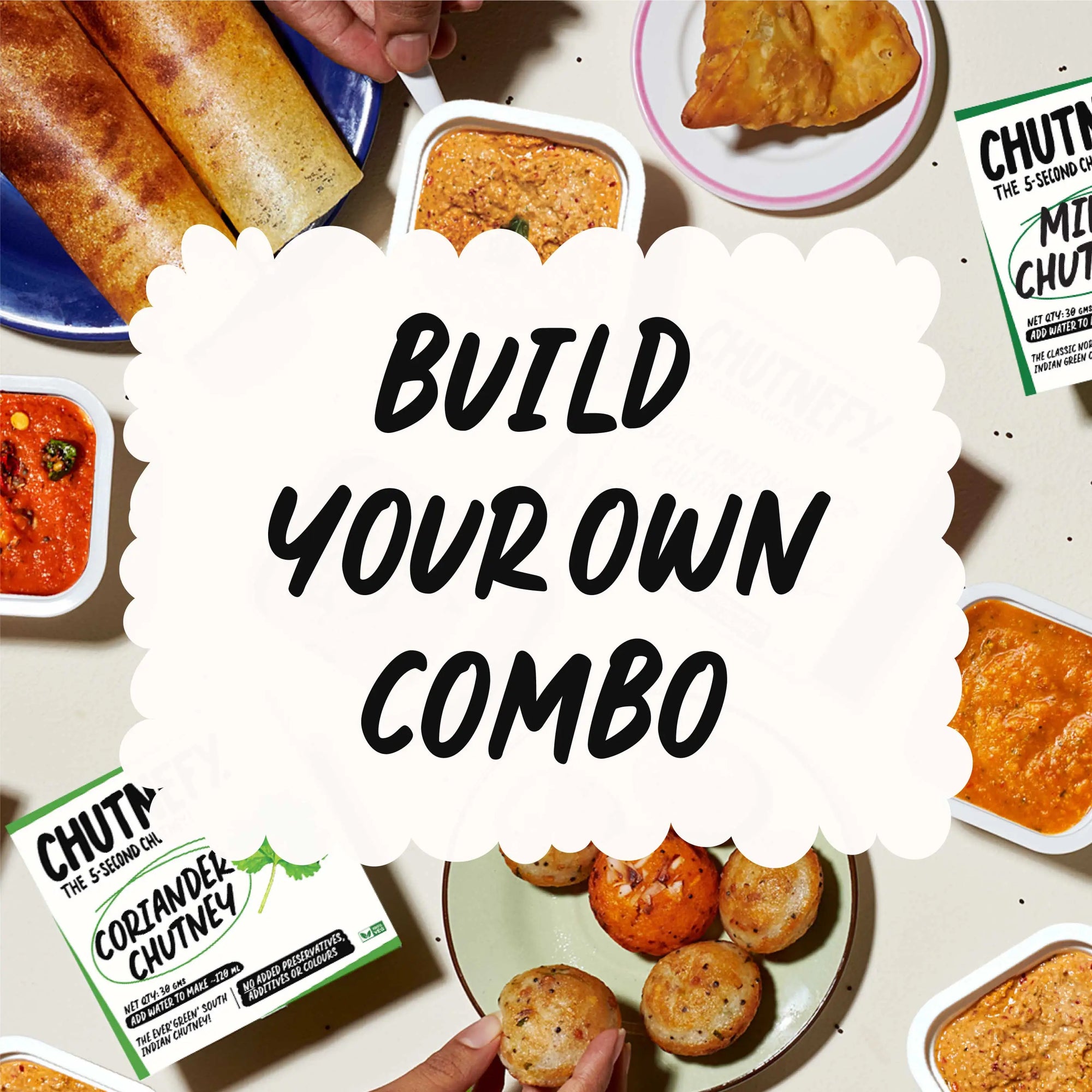 Explore all the chutneys, sidekicks, snacks and make a combo that suits your family & get 20% off!
Got a set of favourites already? Dealing with some picky eaters at home (or maybe you are one!)? Either way, make your own assortment now and enjoy YOUR favourites! 
Too lazy to pick? We've got some ready packs for you!
Ever wondered why the chutneys we love can't be mess-free, fuss-free and yet incredibly delicious?
Well, we did, and we relentlessly went after that answer for months!