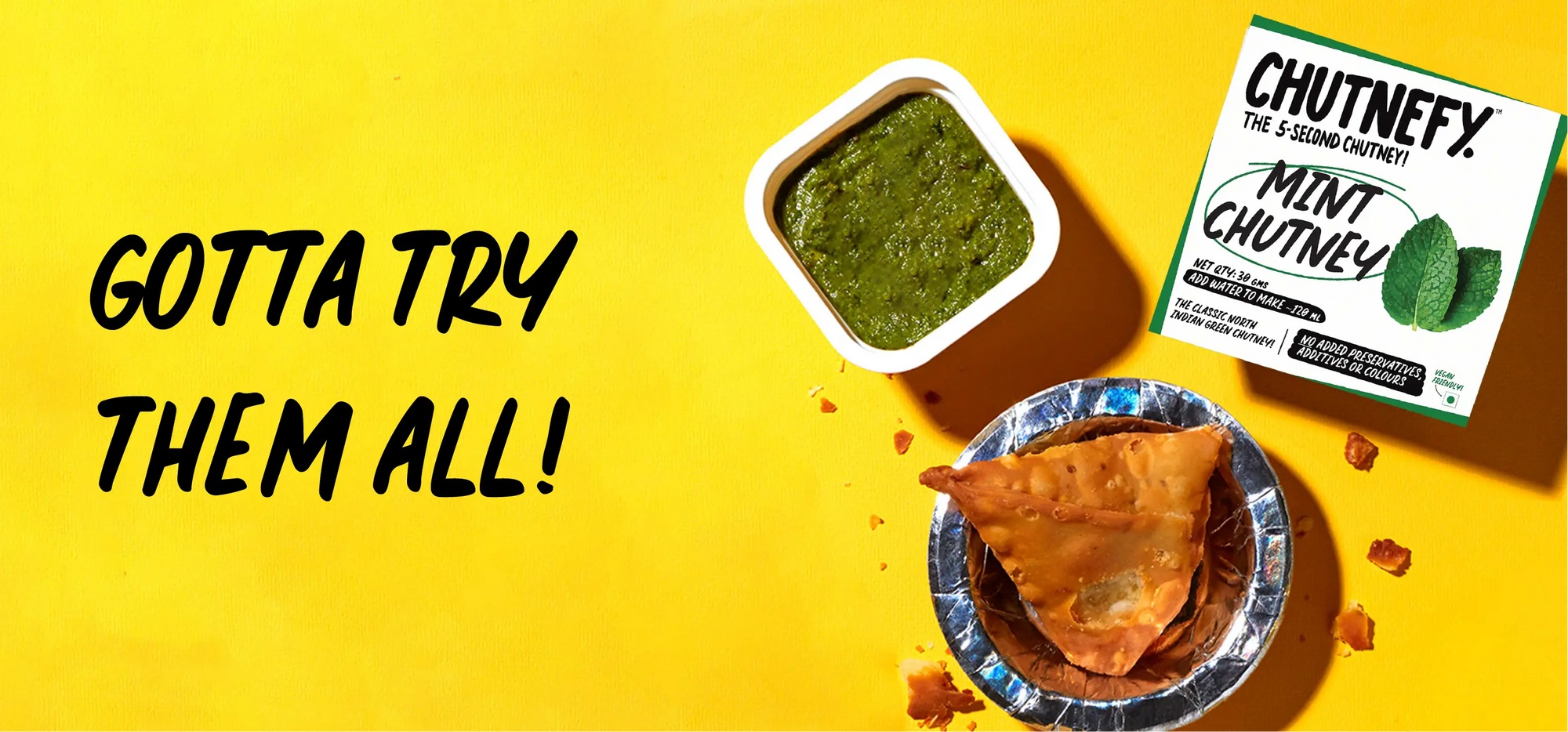 Gotta Try Them All !
Gotta Try Them All: The Avatars of Chutney
A chutney by any other name, doesn't taste the same. We may have clubbed all accompaniments of a certain consistency under the Chutney umbrella over the years, but that doesn't mean they don't have completely unique identities. Every region has their distinctive type of chutney, and if you really look closer, every household in India makes chutneys in their own way. 
But we're here for something rather different. Let's take a trip through the southern states and dip into the world of Chutneys, Chammanthis, Pachadis and Gojjus. How many of these dishes have you eaten? In all likelihood, you might have tried them all, as a generic 'Chutney.'
To try and make sense of it, we've outlined five markers and we're going use them to categorise our condiments. But they're more like guidelines, rather than clear distinctions.
Are they cooked or uncooked?
Are they freshly ground or cooked down to a paste?
Are they coconut based or vegetable based?
Do they have a smooth or uneven consistency?
What do you eat it with?

Pitstop 1: Tamil Nadu
The Quintessential Chutney
Anyone who has eaten a dosa at a restaurant has had this classic combination of red, green and white South Indian chutneys with their meal. What stands out here is that you can really taste the freshness of ingredients, whether it's juicy coconut, fresh coriander and mint or tangy tomatoes. 
They are typically not cooked.
Sometimes, lightly cooked (like Tomato Chutney), Freshly ground using a traditional ammikal, or in a mixie.
They usually contain coconut, but not always (think Andhra Peanut Chutney).
They're ground smooth, with a slightly runny consistency.
They're usually served with tiffin items like dosa, idli, bonda, etc.
Pitstop 2: Andhra Pradesh / Telangana
The Piquant Pachadi
Chutneys are usually the accompaniment to a meal, but when it comes to pachadis, they become the main attraction. Usually paired with steamed rice and generous dollops of ghee, these Andhra-style chutneys are known for eclectic flavour combinations that will blow your mind.Pachadi usually involves cooking, but sometimes needs only tempering. Ingredients are first ground and then cooked.
They are usually made with a variety of fresh vegetables, even coconut.
They're chunky and thick in texture.
They're usually served with rice and ghee, even dosas, idli, pesarattu.
The Pachadi is very similar in texture to a Thokku.
Both use fresh ingredients that are cooked down to a paste. Dare we say, almost like a pickle?
Pitstop 3: Kerala
The Tasty Chammanthi
A marriage of flavours. That's literally what Chammanthi signifies in Malayalam. Made with just 2 or 3 ingredients, this dish elevates a simple meal of kanji or boiled rice and papadam with its bold flavours of spices and evokes memories of packed lunch boxes.
Chammanthi isn't cooked, but sometimes involves roasting dry spices.
Fresh ingredients are ground in an ammikal or mixie.

 

Usually coconut based, but not always.
They're made thick and dry, almost like a powder.
They're usually served with rice, kanji and even idli and doshas.
Pitstop 4: Karnataka
The Lip-smacking Gojju
Gojju is a typically spicy or tangy accompaniment that may have a hint of sweetness in it. It uses everyday ingredients as a base with which you can create multiple variations. What's particularly interesting is that it makes use of fruits like pineapple, green grapes, raisins, orange peels and more, especially during weddings and festive occasions.
They are typically cooked.
Fresh ingredients are ground and cooked to a paste like consistency.

 

They are seasonal vegetable or fruit based and may contain coconut.
They're best enjoyed in a chunky and thick consistency, but can be watered down if needed.
They're usually served with steamed rice, dosa or rotis.

 
When you think about it, Gojju is very similar to the Tamil Thuvaiyal or Thogaiyal. What sets them apart is that Gojju recipes generally call for the use of jaggery, while most Thuvaiyal recipes incorporate tamarind.
While the distinctions are pretty apparent in the way they look and the way they are prepared, there is a lot that's common between all these varieties of Chutney.
#1 - In all these avatars, what stands out the most is the freshness of these dishes and the use of one hero ingredient that's usually a seasonal vegetable or fruit.
#2 - It seems almost wrong to term these different types of chutneys as 'accompaniments'.
And #3 - They make us want to discover and try all the chutneys in India, even if it takes us forever.
We really can't get enough.